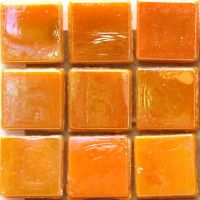 The Opaline Iridescent line is a Sicis Iridium lookalike made using the Element and Lucid collections with an acid wash for a mother-of-pearl finish that catches and reflects light. The tiles cut very easily and cleanly with double-wheeled nippers. UVA- and frost-resistant, they are perfect both indoors and outside in large or small areas.
Each tile is 15mm² and 3.5mm thick.
1 sheet = 400 tiles; 9.4 sheets = 1m².