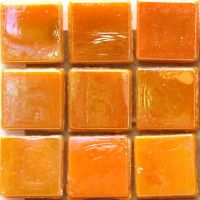 The Opaline Iridescent line is a Sicis Iridium lookalike made using the Element and Lucid collections with an acid wash for a mother-of-pearl finish that catches and reflects light. The tiles cut very easily and cleanly with double-wheeled nippers. UVA- and frost-resistant, they are perfect both indoors and outside in large or small areas.
Each tile is 15mm² and 3.5mm thick.
1 sheet = 400 tiles; 9.4 sheets = 1m².


We wrap and package orders carefully to avoid damage and breakage; however, due to the nature of glass, ceramic, and porcelain, damage may occur in shipping. All tiles and accessories are shipped at your own risk.
・PLEASE NOTE THAT THIS PRODUCT IS SHIPPED AT YOUR OWN RISK・