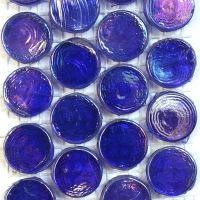 The Radiant Round and Radiant Ellipse collections are made from high-temperature transparent glass in a beautiful range of colours with an iridescent finish. They are often used together to create bohemian flowers, but possibilities abound. UVA- and frost-resistant, these tiles are suitable for indoor and outdoor use.
Radiant Round: 196 tiles on film sheet (29.5×28.5cm); each tile is 18mm in diameter, and 7mm thick. 1m² = 11.9 sheets.
Radiant Ellipse: 102 tiles on film sheet (32.5×30cm); each tile is 45×20×7mm. 1m² = 10.3 sheets.


We wrap and package orders carefully to avoid damage and breakage, however, due to the nature of glass, ceramic, and porcelain, damage may occur in shipping. All tiles and accessories are shipped at your own risk.
・PLEASE NOTE THAT THIS PRODUCT IS SHIPPED AT YOUR OWN RISK・