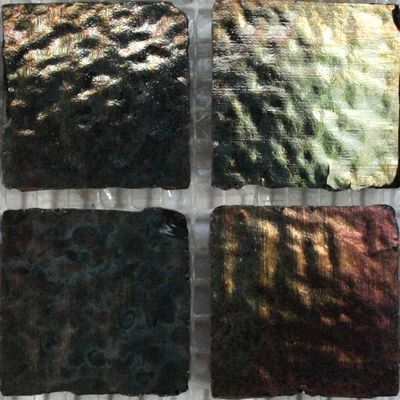 Pâte de Verre Iridised is a new option in our 25mm Iridised collection. It has all the same great qualities of our standard Pâte de Verre with a permanent mother of pearl finish. The tiles are sold loose; they are 4mm thick, with slightly rounded edges. 180 pieces per 1000g.

The Ocean Glass series is an upmarket premium tile that is thicker and uses pure silica for a very rich, vibrant effect. The tiles are molded and double-fired for a superior hand-cast look. The collection is extremely popular for creating borders or waterlines in pools. Each tile is 25mm² and 5mm thick. 1 sheet = 144 tiles; 10 sheets = 1m².


We wrap and package orders carefully to avoid damage and breakage, however, due to the nature of glass, ceramic, and porcelain, damage may occur in shipping. All tiles and accessories are shipped at your own risk.
・PLEASE NOTE THAT THIS PRODUCT IS SHIPPED AT YOUR OWN RISK・