Recent articles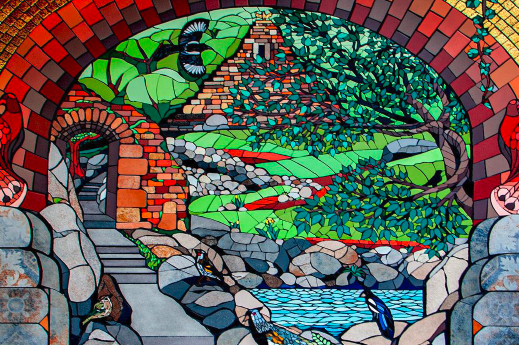 Ecology as a mosaic: The work of Isidora Paz López

We're delighted to be collaborating with Mosaic & Glass magazine to give you complimentary online a
Quick answers
MOSAIC TRADER is for wholesale customers only. Retail customers please go to www.thecraftkit.com or if you are in the USA please go to www.mosaictraderusa.com.
Do you have everything in stock? At our warehouse in Aalsmeer, The Netherlands we carry a wide and deep stock but sometimes a product can be sold out. Replacement time can vary widely from 2 days to 12 weeks depending on the country of origin and the factory capacity. If you need a product urgently that is sold out or in a larger quantity than we currently have in stock, please contact us to find the best solution at rhonda@thecraftkit.com.
We are open Mon-Sat in Aalsmeer, The Netherlands to the public from 10:00-16:00. You can pay by pin or cash please note that all in store purchase MUST include VAT of 21%.
Photos: Although we strive to create photos that are accurate representations of our products there is always the possibility that individual computers may represent the colour differently. We strongly suggest that you visit the shop or buy a sample of a product before ordering large quantities. Please also be aware that all mosaic tiles may change in colour, texture and finish with each batch made.
Wholesale Shopping: Wholesale customers with approved and activated accounts can shop at the showroom. New wholesale customers must first apply in writing to store@thecraftkit.com and once approved and activated can shop in person. Please note that we cannot allow other people to shop on your wholesale account without you present unless previous agreed in writing.
International Shipping: Yes, we can! Please take a look at our shipping information. We ship free of charge from Europe to our depot in the USA, from there it is transhipped via USPS you only pay for domestic shipping from Ohio.
Further questions?
Take a look at our frequently asked questions as there are many popular questions answered there.
We prefer to answer questions about orders, products and other issues by email, we check throughout the day and answer very quickly: store@thecraftkit.com
Shipping
EU Shipping: We use TNT Post or DPD (whichever is cheaper) package rates from our warehouse to most of Europe. Ordering in increments of 29,99kg gives the best value. So for example 29,99, 59,99, 89,99 etc. We are always happy to add to the box if there is room for more, please call or email to ask us to do so. Shipping is normally within 1 business day with transit times of 24 hours within The Netherlands and 24-72 hours to the rest of Europe. Please see our parcel rates below.
Ex-EU/International Shipping: *International courier services and rates are back on emergency footing. We have been informed by Fedex that only Express Service is available which is significantly higher than our quoted economy rate. We are happy to quote you before you pay and that way you can decide whether or not to order from us. We are very sorry about this but it is out of our control. Please remember to order in increments of 19.99kg with the best value at 59.99kg. It is cheapest to make multiple orders of 59.99kg than one large 200kg order for example... We are always happy to add to the box if there is room for more, we will email to ask you to do so.
Pallets/LCL/LTL: To discuss or arrange alternative shipping methods please send us an email to get an estimate for your location. We get excellent discounts from many carriers. Alternatively, you can arrange consolidation and pick up independently from our warehouse, please contact us to arrange this.
Third Party Shipping: Shipping to an agent, friend or consolidation point is also possible, please fill this shipping address in during the ordering process.
Shipping prices are based on zones. The higher the zone #, the longer the shipment will take and the more expensive it is. We currently have the following zones:
Zone 1: Netherlands
Zone 2: Belgium, Germany, Luxembourg
Zone 3: Austria, Denmark, France, France Metropolitan, Liechtenstein, Monaco, United Kingdom
Zone 4: Czech Republic, Finland, Hungary, Ireland, Italy (not including islands), Lithuania, Poland, Portugal (not including islands), Slovakia (Slovak Republic), Slovenia, Spain (not including islands), Sweden (not including islands), Switzerland
Zone 5: Bosnia and Herzegowina, Bulgaria, Croatia, Estonia, Greece, Latvia, Norway, Romania, Turkey, Yugoslavia
Zone 6: All other countries, including: Australia, Canada, Israel, New Zealand, South Africa and the United States
Brands
We carry a wide selection of quality mosaic tiles and supplies. If you do not see what you are looking for please email us a picture to store@thecraftkit.com and we will try to identify it for you.
The pictures on this website are provided to assist in making color choices, we take the pictures using a Canon camera and they are edited on a Macbook Pro but they are not guaranteed to be an exact image. They are chosen to best represent the colour and finish, however the appearance of the actual product may vary due to the following:
the search engine, color settings or type of device used to view the website
limitations of photography
the limitations of viewing photos at website resolutions
the limitations and/or variations intrinsic to viewing photos on monitors or screens
dye lot variation. Each batch of a color may potentially vary. Please buy all that you need at one time to complete a project as we cannot color match from batch to batch. We strongly urge you to buy a sample before purchasing large quantities. We are not responsible to batch or colour differences as these are intrinsic to tile production
We design and manufacture a range of products that are exclusive to us. Additionally, we buy from several renowned suppliers in the mosaic world. We have wholesale pricing for approved mosaic related business, architects, interior designers and artists. We sell sample sizes of products and sample cards with actual tiles to help in colour selection. Please note that each batch of tile produced may have colour differences.
Winckelmans: This is heritage French quarry tile and porcelain of the finest quality, manufactured since 1894 by the original Winckelmans family. The porcelain range has 36 colours that mimic the natural beauty of stone. The Winckelmans name has become synonymous with porcelain quality worldwide. The production plant in Lille, France, manufactures over 600,000 m2 of tiles each year.
Sicis of Ravenna: The art mosaic masters…often copied but never surpassed.
Mosa: The best color range in 15x15cm ceramic high gloss wall tile. Recognised for incredible color consistency and quality.
Cinca: Portugal's fame as a center for ceramics is well known. This brand of porcelain tiles is everything we expect from this strong tradition. They are durable, high quality and affordable in a huge range of colors.
Smalti and Millefiori: There are only a handful of manufacturers of traditional Italian smalti and millefiori left and we buy from many of them. Our smalti is from Dona of Spilimbergo and our glass rods and millefiori is from Effetre of Murano. We also carry emaux from Albertini of Paris.
Tools: Leponitt has rightfully received accolades for its glass cutting tools and their wheeled nipper is the single most popular cutting tool in a mosaic artist's tool box.
At The Craft Kit we carry a wide selection of quality mosaic materials at factory direct prices including many exclusive designs. We welcome ideas and suggestions for new products or colors from our customers, if you have a product you want us to explore with you please send an email to store@thecraftkit.com.
If you are buying larger quantities, we have automatic discounts that will be applied. These are not compunded with any other discounts given.
3% off all orders over $500 (not including shipping)

5% off all orders over $3000 (not including shipping)
There is wholesale pricing for qualifying businesses as well. Please send us an email to store@thecraftkit.com with the following info:
Business Name

Business Address

Type of Business

Website or Social Media Presence

Tax / Business ID Number
N.B. Wholesale accounts must be individually approved and activated before you are able to shop.
Europe, NZ, Australia, Africa and Asia
Retail: www.thecraftkit.com
Wholesale: www.mosaictrader.com
USA, Canada, Mexico, Latin America and the Caribbean
Retail: www.mosaictraderusa.com
For wholesale pricing in the USA, Canada or Central and South America, please apply for an account by email to info@mosaictraderusa.com
Distributors: If you already have a distributor account these are now activated as wholesale accounts on www.mosaictrader.com and the discount is given automatically. If you are unsure how this affects your pricing, please contact us on rhonda@thecraftkit.com