20mm: Classic Vitreous (mesh)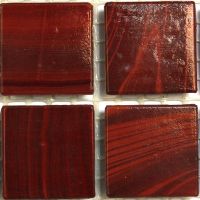 The Quadra 20mm Collection prides itself in delivering an incomparable price-to-quality ratio. This is a line of glass mosaic tiles designed and selected in Europe, then carefully crafted by specially chosen factories in China. The vitreous line offers classic glass mosaic in a comprehensive range of colours for indoor and outdoor projects.
Each tile is 20mm² and 4mm thick. 1 sheet = 225 tiles; 9.4 sheets = 1m².


We wrap and package orders carefully to avoid damage and breakage, however, due to the nature of glass, ceramic, and porcelain, damage may occur in shipping. All tiles and accessories are shipped at your own risk.
*PLEASE NOTE THAT THIS PRODUCT IS SHIPPED AT YOUR OWN RISK*